TriStars Solutions (TSS) is Small Business Administration (SBA) approved 8(a) Joint Venture established in 2020 and headquartered in Dublin OH..
TriStars Solutions is formed between
Logic Soft, Inc.
DynaGrace Enterprises, Inc.
GenesisTMG, LLC.
Our combined work spans 40 years supporting the Federal Government, State and Local and Commercial clients. Our proposal reflects a qualified technical and domain experienced team in performing a vast array of IT-related work at the highest levels. We are well positioned to execute critical IT-related projects including modernization, emerging technologies and cybersecurity within the federal marketplace.
TSS brings a broad range of expertise in Software Delivery, Image Processing, Data Science, Machine Learning, Predictive Data Analysis, Artificial Intelligence, Industrial Automation, and Cloud-based technologies to our customers. We are recognized in the market for our ability to select and provide highly qualified and talented individuals such as project managers, developers, writers and IT personnel with subject matter expertise in cybersecurity, artificial intelligence, machine learning, deep learning, natural language processing, artificial neural networks, robotic process automation, blockchain: distributed ledger, cloud, and edge computing serving public and private industry sectors.
Call To Action
Thank you for your review of TriStars Solutions credentials and capabilities. We look forward to serving our Government's vital missions and our dedicated public servants and warfighter.
Contract Vehicles
Contract Vehicles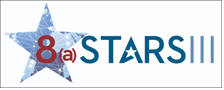 8(a) STARS III, a small business set-aside GWAC, provides flexible access to customized IT solutions from a large, diverse pool of 8(a) industry partners. This next-generation GWAC builds upon the framework of 8(a) STARS II and expands capabilities for emerging technologies and outside the continental United States (OCONUS) requirements. To know more, please click here.
TriStars Information
Stars III Master Contract Number: 47QTCB21D0017
DUNS: 117575657
CAGE Code: 8N7U5
NAICS: 541512 – Computer Systems Design Services
Program Manager: Satish Barapatre / s3@tristarsllc.com / 614-596-9988
Location:
UNITED STATES
Corporate Headquarters
5900 Sawmill Road, Suite 200
Dublin, OH 43017-2588
Email:
s3@tristarsllc.com